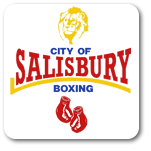 Fully equipped
and qualified trainers
Salisbury City Boxing Club
Salisbury's City's renowned fully equipped boxing club is open to all.
We are a registered charity and require sponsors from local business. See our sponsors.

Members of the club take part in circuit training sessions combined with boxing skills coached by qualified and experienced instructors in a safe and controlled environment.
Salisbury City Boxing Club - Mission statement

Our mission is to promote boxing, health and the wellbeing of the people, without distinction of race, gender, political and or religious belief. Our purpose is to make a significant impact on the local communities' health and lifestyle and to provide outlets for young people to develop and participate in the local community. 
​As a Charity, The club believes money should not be the deciding factor in its participation and its 'activities should be accessible and affordable to all'.
Our aims are;
To promote fitness, discipline, friendship, fair play and respect for all the community and particularly young people.
To enable young people to develop and participate in the local community and to improve the self-confidence of young people.
To increase quality of life by providing a constructive alternative to anti-social behaviour such as drugs and alcohol abuse and to provide positive role models and social inclusion from interaction with our coaching staff and other young people.

 "The fight is won or lost away from witnesses, behind the lines, in the gym, and out there on the road, long before I dance under those lights!"  -Muhammad Ali
Our Coaches

Tom Smartt - (Level 2 Coach)
Arthur Castle - (Level 2 Coach)
Ray Sparrow - (Level 2 Coach)
Eddie McDickson - (Level 2 Coach)
Didier JnCharles - (Level 1 Coach)

Tony Castle (Level 1 Coach)
Eric Laffin - (Level 1 Coach)
Sadie Kimber - (Level 1 Coach)
All Coaches hold a current England Boxing Coaching Certificate, First Aid Certificate, DBS Certificate and Safe Guarding Certificate.
Exercise Equipment: Free Weights, Weight Machines, Kettle Balls, Treadmills, Medicine Balls, Battle Ropes, Foam Rollers, Resistance Bands.
Training Equipment: Ring, Heavy Bag, Speed Bag, Timers, Jump ropes, Mitts, Gloves
Activities Offered: Technique Training, Strength & Conditioning, Sparring